"After hospitalisations COVID-19 deaths may have peaked"
Crisis centre figures show 168 people died of COVID-19 in Belgium on Sunday.  103 deaths were recorded in care homes for the elderly, 62 in hospitals and 3 elsewhere.  Hospital cases are confirmed cases; care homes deaths may be confirmed or suspected.
In all 5,828 people have died in Belgium since 15 March as a result of confirmed or suspected COVID-19.  Just over half of all deaths occurred in care homes.
1,487 new infections with coronavirus have een reported taking the total for Belgium to 39,983.
232 people were hospitalised on Sunday.  4,920 COVID-19 patients are now in a Belgian hospital. Hospitalisations peaked on 6 April with 6,012 people in a Belgian hospital bed with COVID-19.
1,071 patients are today in intensive care: 760 people are on a ventilator – down 21 on the day.
8,895 corona patients have left hospital since 15 March and have been declared cured.  On Sunday 138 patients were discharged.
Virologist Steven Van Gucht released several graphs showing what would have happened if corona measures were relaxed on 16 April.  The graphs show a projected strong rise in cases and deaths.
"This is why we don't want to relax too early.  In order to keep the curve flattened we need to limit the circulation of the virus as much as possible.  Then we can relax measures with greater guarantees.  We will have to remain vigilant, by testing, contact tracing, isolation and social distancing."
Prof Steven Van Gucht: "The idea is to relax a number of measures gradually and carefully.  The security council will decide the exact timing, but we believe it is possible to relax a number of measures in the future."
The graph shows what would have happened to hospitalisations 1 without measures on 14 March and 2 if measures were stopped on 16 April.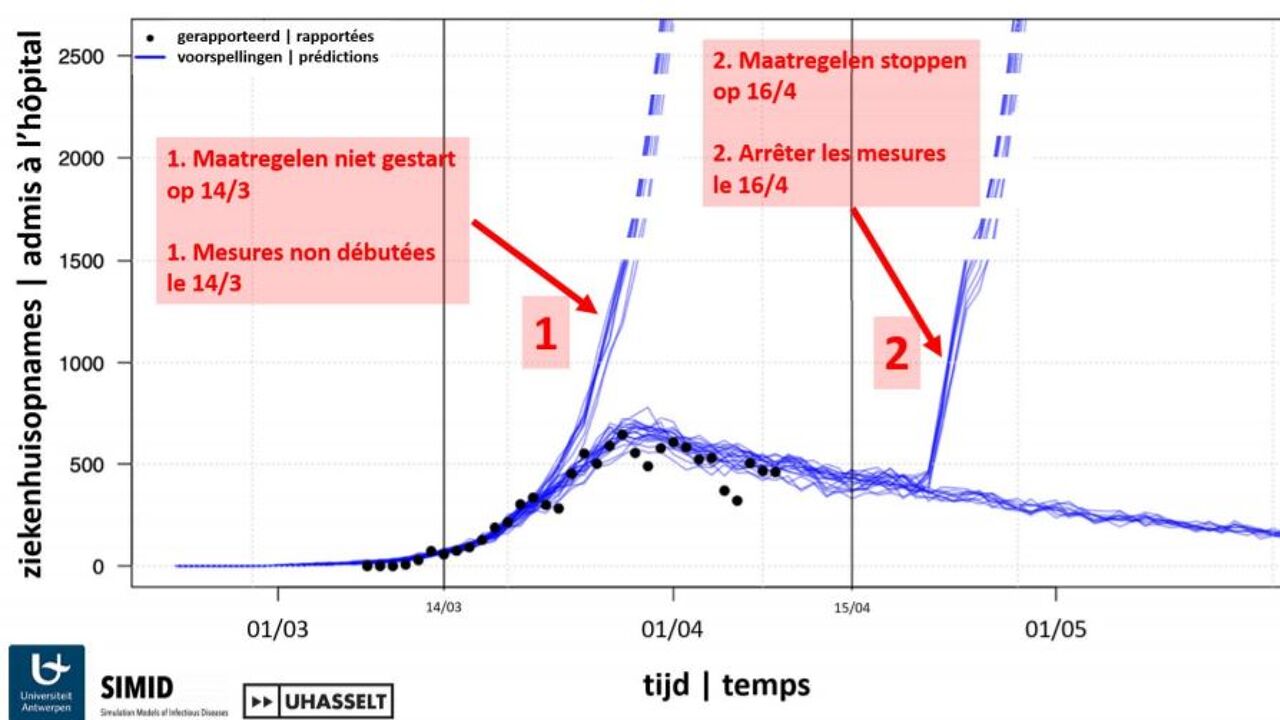 Yves Steven of the crisis centre: "Thanks to a positive attitude together we are tackling the strength of the virus. The curve and the daily update of figures may seem abstract, but it reflects our behaviour in recent weeks.  It shows we are succeeding in our intention of managing the situation.  It gives hope for the future but we may not relax our efforts too quickly."
VRT's science editor Koen Wauters notes that the figure for hospitalisations may be lower due to a lag in reporting through the weekend.  This won't be the case with the figure for deaths: "We see that the peak in hospitalisations is behind us.  The experts are suggesting we may now be seeing that deaths too have peaked."
Models suggest that without corona measures there would have been an exponential increase in the figures.  These measures can only be relaxed very cautiously because of the lack of group immunity.
Koen Wauters: "People who are infected can't get the disease again straight away. There are no figures for Belgium, but in the Netherlands and Germany there is only 3% of group immunity suggesting a second outbreak could erupt very quickly."