Europa League wins for Royal Antwerp FC and Standard, over and out for AA Gent
Three Belgian teams were in action in the Europa League on Thursday evening. Last season's Belgian Cup winners took Royal Antwerp FC took an important step towards qualification for the knock-out stage with a 0-2 victory away against the Austrian side LASK. Standard de Liège gained the first points of their Europa League campaign so far with a 2-1 home win against Lech Poznan. AA Gent's 0-2 defeat at the hands of Red Star Belgrade means that it is over and out for the East Flemings. 
The team that came second in last season's Belgian First Division has been something of a disappointment so far this season. Although their league form has picked up a big in recent weeks AA Gent are only mid table in the league and they failed to qualify for the Champions League and their Europa League campaign has been nothing short of a disaster. 
Thursday evening's game against Red Star Belgrade was no exception to this. An early goal from Red Star's Petrovic on 2 minutes and a Milunovic goal on 59 minutes were enough to subject the Buffaloes to their fourth Europa League defeat so far. AA Gent are bottom of their group with 0 points and will play no further part in the Europa League once the group stage is over. 
Antwerp top of their group after a 0-2 win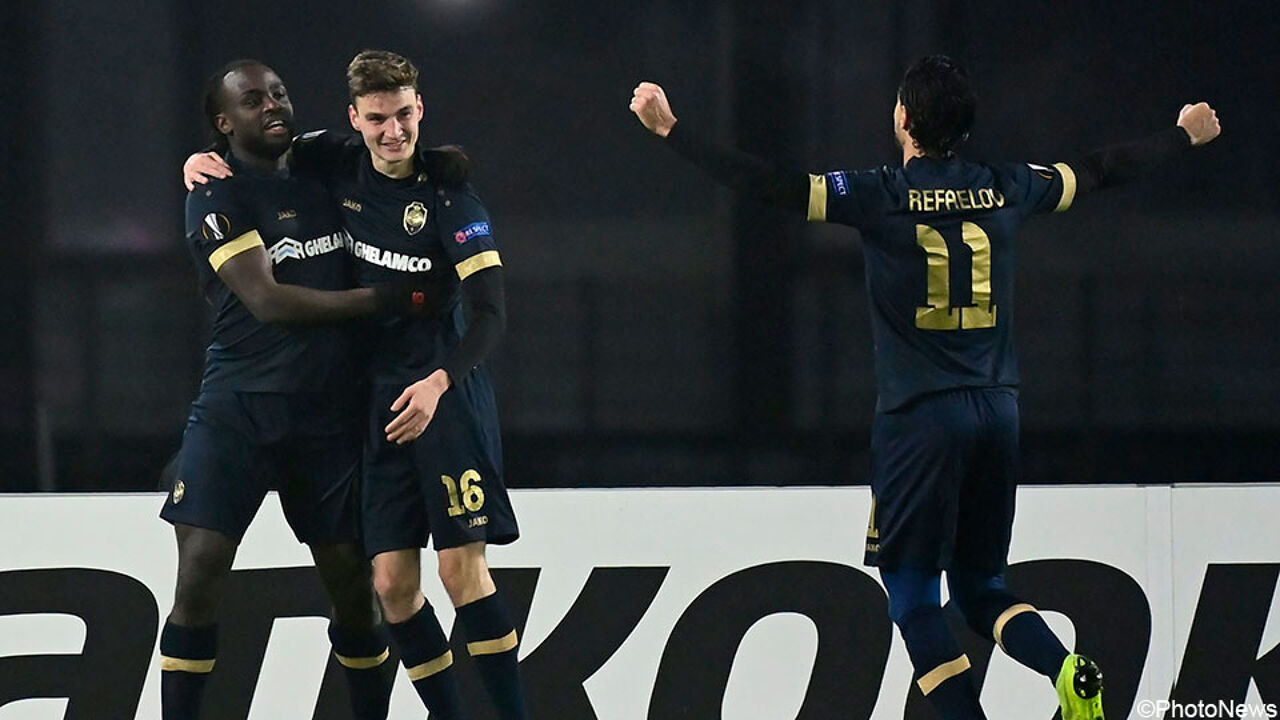 A 0-2 win against the Austrian side LASK in Linz mean that Royal Antwerp FC have a pretty good chance of making it through to the knockout stage. Antwerp's goals both came in the second half with Rafaelov opening the scoring for the Great Old on 54 minutes. A Peter Gerkens (photo above) goal on 86 minutes made for a final score of 0-2 in Antwerp's favour. With 2 group stage games left Royal Antwerp FC lead their group with 9 points. 2nd-placed Tottenham Hotspur also have 9 points, with 3rd-placed LASK having 6 points. 
Late Laifis goal keeps Standard's hopes alive
Although highly unlikely it is still mathematically possible for Standard de Liège to qualify for the knockout stage. A Kostas Laifis v(top photo) goal in the 4th minute of injury time assured Standard of a 2-1 home win against Lech Poznan. 
The Poles had taken the lead on 62 minutes through Ishak with Tapsoba equalised for Standard 10 minutes later. Standard played the entire second half with 10 men after Oulare was given his second yellow card of the match in the 4th minute of 1st half injury time. Lech Poznan's Cmomarkovic was sent off for his second bookable offence on 76 minutes. With two games left Standard are bottom of their group with 3 points. The 2nd and 3rd placed teams in the group Lech Poznan and Benfica have 8 points.