Higher than average PFAS levels in tap water in parts of Antwerp and West Flanders
The tap water in Zwijndrecht and Antwerp contains more PFAS than in the rest of Flanders. Only one other area, in West Flanders around Kuurne, Waregem and Kortrijk, shows higher than average levels of a group of toxic so-called 'forever chemicals', data from 2018 show. However, even these higher concentrations remain well below the European alert level. 
The Flemish Care and Health Agency (Agentschap Zorg en Gezondheid) and the Environment Agency VMM (Vlaamse Milieumaatschappij) joined forces in 2018 to have various water samples across Flanders analysed. 
Drinking water suppliers around Zwijndrecht (where the recent PFOS scandal broke out) and also in the south of West Flanders scored worse than average, between 30 and 60 nanograms per litre. The European norm introduced in 2020 is talking about a maximum of 100 nanograms per litre.  
Both agencies underline that they only took a limited number of samples. And they also didn't check all the different types of the PFAS chemicals either. They checked 14 types, but did include two of the most harmful ones, PFOS and PFOA. There are about 20 types which can damage your health in elevated levels, including PFOS. 
It seems that PFAS is present in the whole of the Flemish environment (rivers, land, etc.) but that the levels remain below the European alert level.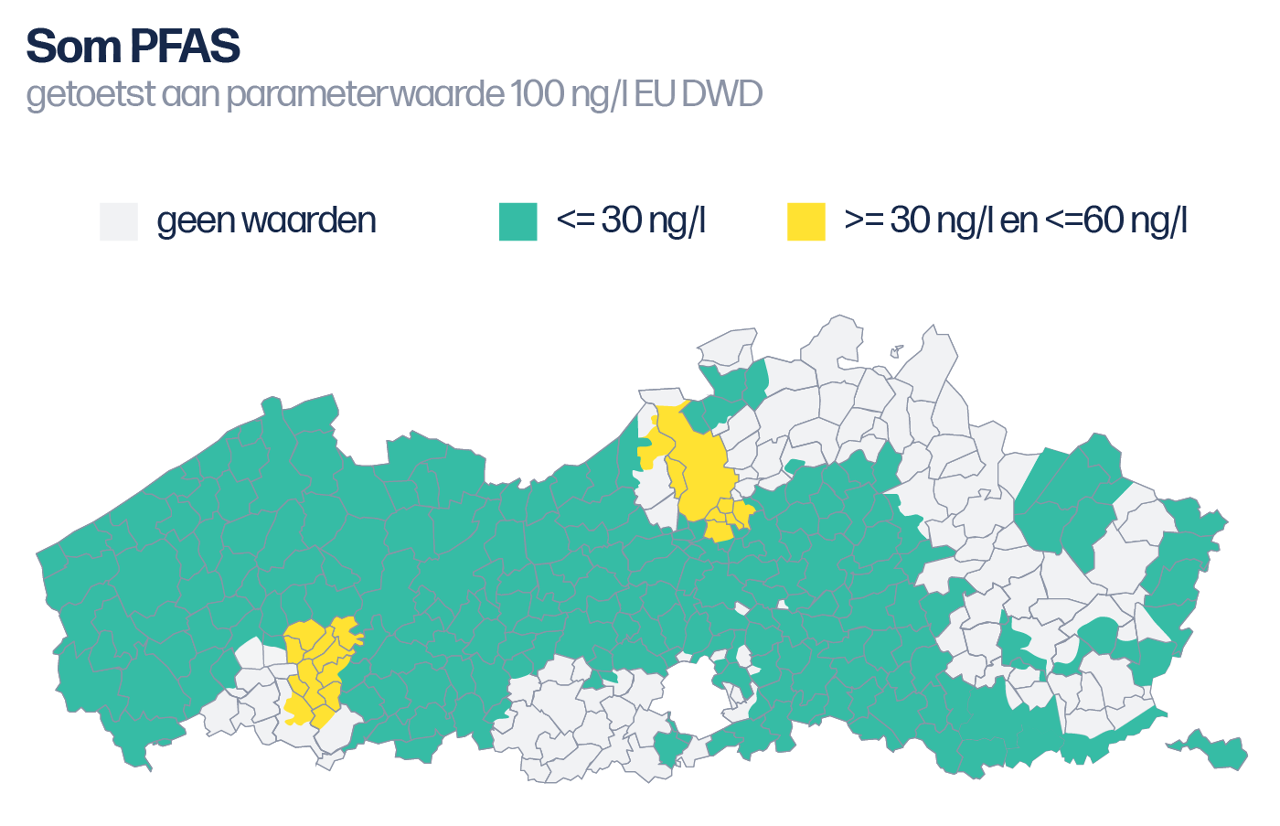 PFOS is one of the more harmful chemicals in the large umbrella group of PFAS. It hardly degrades in a natural environment (for that reason, they are also dubbed 'forever chemicals'). PFOS was used for coatings, tapes and raincoats among other things. It is no longer being manufactured at present, but the 3M factory in Zwijndrecht still bears the consequences of the past.