Lukaku on target in his 100th international as Belgium enjoy a convincing win against the Czechs 
Belgium are well on course for qualification for next year's World Cup after a convincing 3-0 win against the Czech Republic on Sunday evening. In what was his 100th game for his country Romelu Lukaku opened the scoring for Belgium with Eden Hazard scoring Belgium's second and Alexis Saelemaekers making it 3-0 in the second half. 
Back in March the Czechs gave the Red Devils a run for their money in a match that ended in a draw. With this in mind the Belgians knew that the Czech Republic was going to be a tougher opponent than Estonia had been on Thursday. With the return of supporters to the King Boudewijn Stadium in Brussels to cheer on the national side the team knew that they had something to prove.
The fans didn't have long to find something to cheer about with Romelu Lukaku making it 1-0 to Belgium with just 8 minutes on the clock. Sunday's game was Lukaku's 100 international, and the goal was his 67th for his country.
The Belgians remained very much in control. However, the next big chance didn't come until on the half hour when Hazard set Lukaku free in front of goal. The Czech's substitute keeper Stanek was able to deny him though with an excellent save.  At the other end Courtois was on hand to deny Vydra after a badly judged back pass from Vertonghen.
As had been the case with Lukaku's opener, Hans Vanaken was instrumental in the build up to Belgium's second goal that was scored by Eden Hazard (photo, below). Belgium were 2-0 op 41 minutes.
Just before half time the Czechs had an opportunity to pull one back. However, Soucek's shot went straight to Courtois.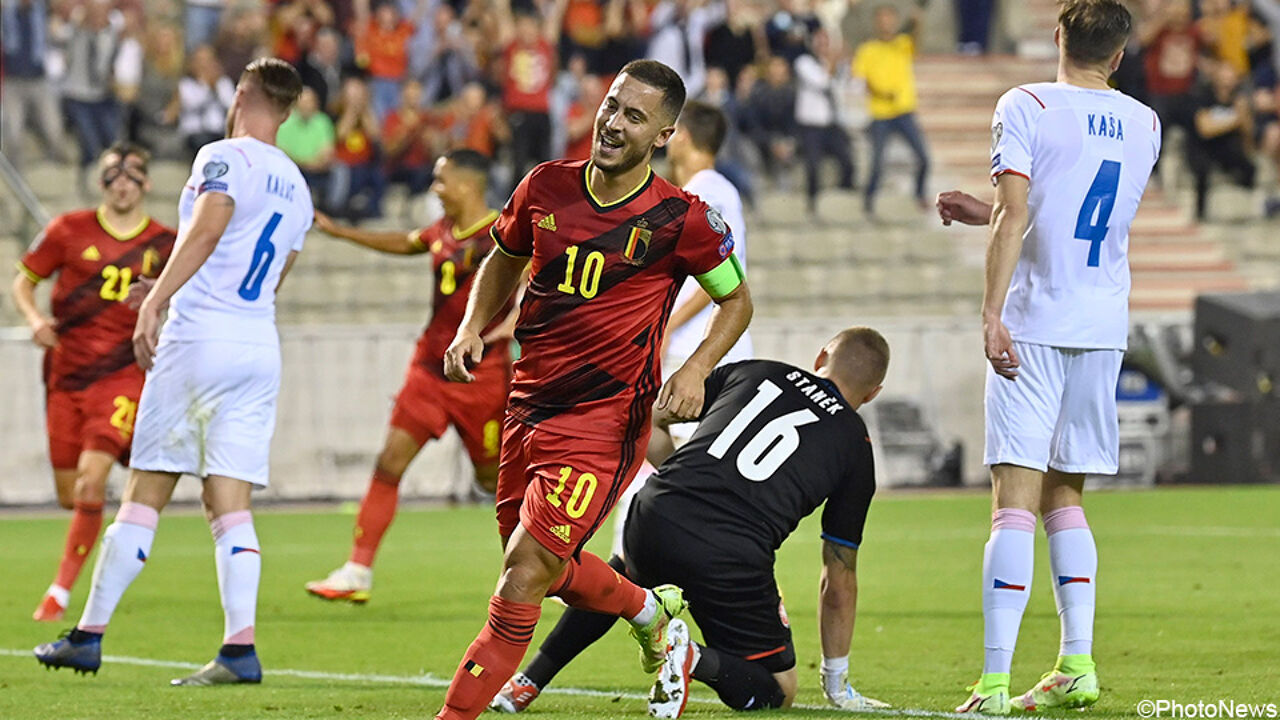 Saelemaekers on target in the second half
The Belgians were somewhat lacklustre early in the second half and almost conceded a goal. Witsel rather nonchalantly lost possession leaving Vydra with only Courtois to beat. Courtois saved with his legs to deny the Czech.
Lukaku shot straight at the Czech keeper Stanek. This marked a renaissance for Belgium. Despite this the Czechs almost pulled one back on the hour when a Pesek shot deviated off Denaeyer. Only an excellent save from Courtois was able to prevent an own goal. Another great bit of goalkeeping from Courtois denied Hlozek just moments later. 
The match was put beyond the Czechs' reach on 65 minutes when Saelemaekers scored his first international goal after some good work by Hazard and Lukaku. Lukaku came close to making it 4-0 shortly afterwards, but Stanek was on hand to deny the Belgian striker. 
Both Lukaku and Vertonghen were given yellow cards during Sunday's game. This means that they will miss Wednesday evening's World Cup qualifier against Belarus.