Sizzling Alaphilippe takes another rainbow jersey in Leuven as Van Aert has a bad day
Not home crowd favourite Wout Van Aert, but Frenchman Julian Alaphilippe took the rainbow jersey at the World Cycling Championships in Leuven. Belgium had high expectations, but Alaphilippe proved much too strong, setting up a solo effort and taking back-to-back titles in an epic race. Belgium was left empty-handed in the end, with home rider Jasper Stuyven just missing a medal. The event was marked by the big crowds, the loud cheering and the hot atmosphere in Belgium, the home ground of cycling. 
The Belgian team worked hard and controlled the race, until the last-but-one lap in Leuven (Flemish Brabant). Julian Alaphilippe accelerated time and time again until he finally broke away, at his fourth attempt, on the narrow climb of the Sint-Antoniusstraat in the heart of Leuven.  It was the start of an impressive solo effort of 17 kilometres in the winding streets of the hilly local circuit. 
He slowly but surely built a gap and stood strong in the final lap, taking risks in the descents and fighting for each second in a tense finale. In the background, the Belgian favourite Wout Van Aert had informed his team mate Jasper Stuyven that he was not at his best today. 
Stuyven joined a counter-attack with Dylan van Baarle (Netherlands), Michael Valgren (Denmark) and Neilson Powless (U.S.). After a triumphant Alaphilippe had crossed the finish line on the Leuven orbital road, those four sprinted for the silver, with Van Baarle edging Valgren and Jasper Stuyven. Wout Van Aert was further behind to take 11th place.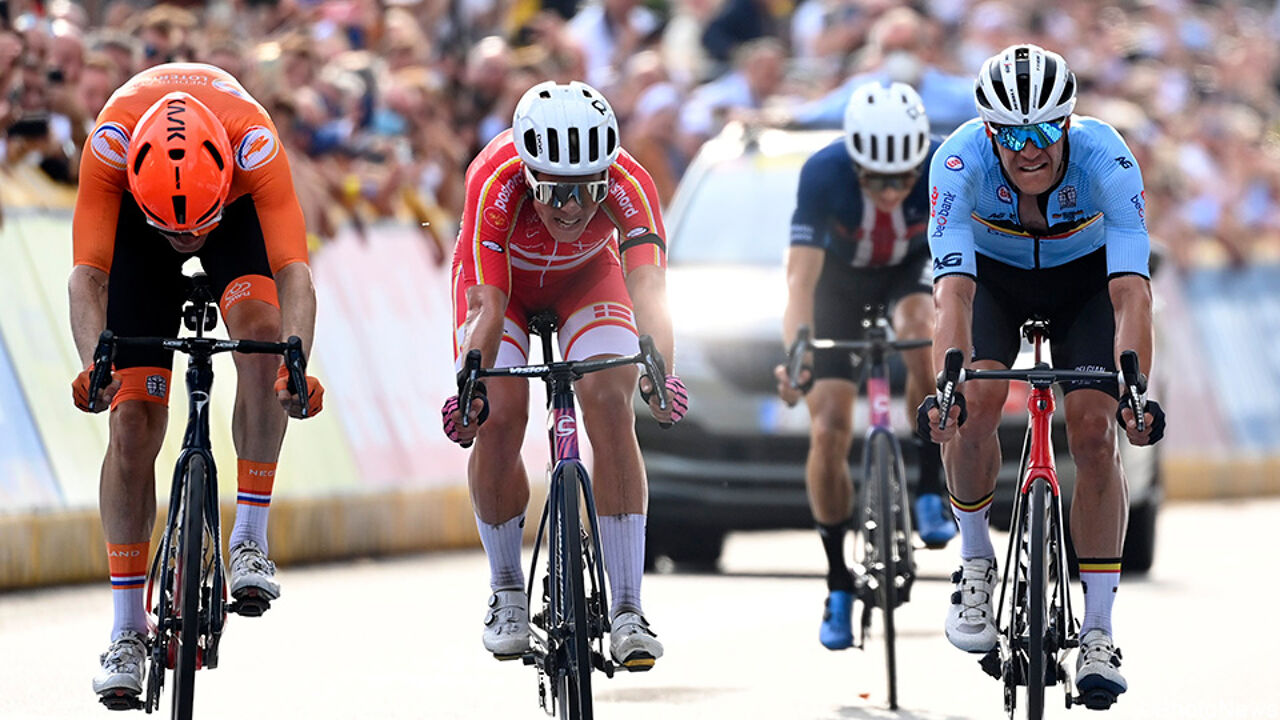 Wout Van Aert: "A bad day"
In-form Wout Van Aert had been put forward as the big race favourite and was carrying the hopes of the Belgian nation before his home crowd. But he was not at his best. This could already be seen on the Smeysberg, when Alaphilippe attacked a first time and when he had no reaction. "I didn't have the good legs I had hoped for", he told reporters after the race. "What can I say? I am only a human being, like everyone else." 
Jasper Stuyven: "Immensely disappointed"
It was not plan A for the Belgians, but plan B with local rider Jasper Stuyven (29). "We were crawling in the final sprint. I feel really bad. It is such a pity that I just missed a medal in the sprint, it would have been a nice consolation prize." 
"Plan A was working for Wout but he told me he was not at his best when Alaphilippe had gone solo." 
Julian Alaphilippe: "Belgian fans booed me, but this was an extra motivation"
France had three men in the large breakaway group when the riders returned from Overijse to Leuven. "We decided to try something to see how the others would react", a beaming Alaphilippe told reporters. "But I never thought it would work out like this." 
"Last year, a dream came true when I became World Champion for the first time. This year, I was more relaxed at the start, but still very motivated. I worked hard the past weeks and we knew the course would fit our French team. (...) I was booed by some Belgian fans, but this only motivated me more."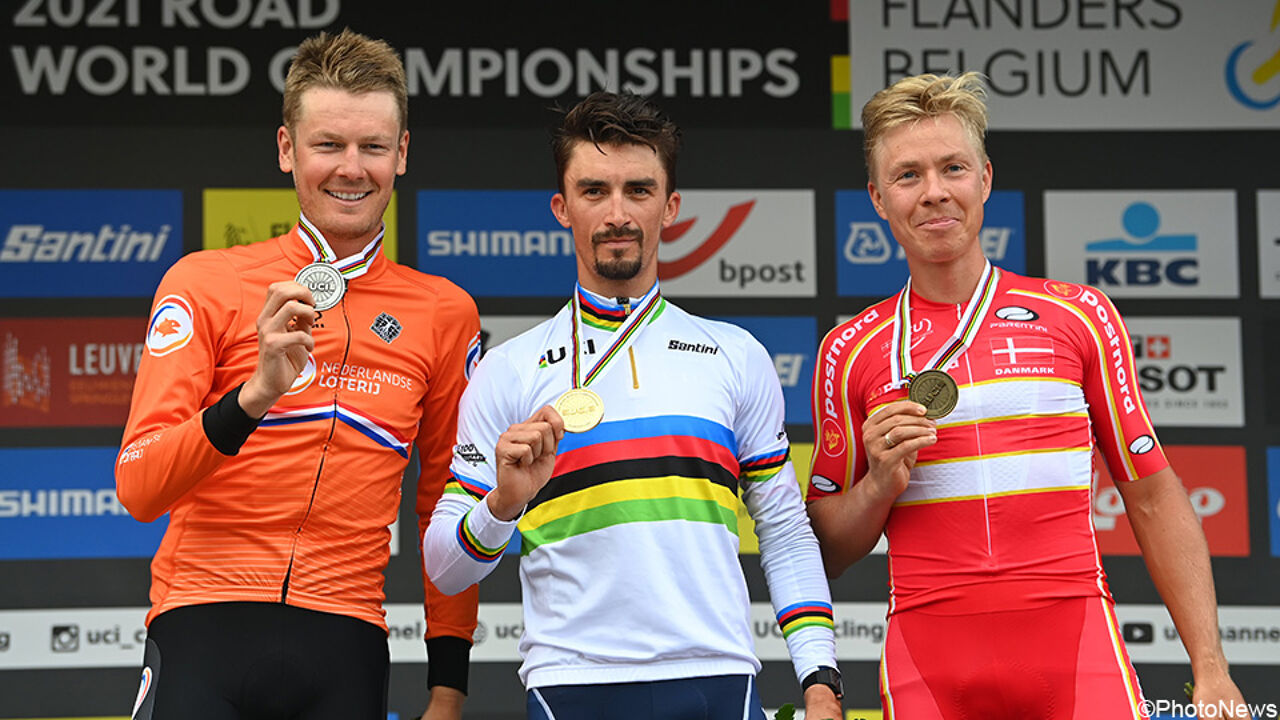 The top-10 of the race:
1. Julian Alaphilippe (France), 268,3 km in 5 hours 56 minutes and 34 seconds (average speed 45,1 km/h)
2. Dylan van Baarle (Netherlands) 32 seconds behind
3. Michael Valgren (Denmark) same time
4. Jasper Stuyven (Belgium) 
5. Neilson Powless (United States) 
6. Tom Pidcock (Great Britain) 49 seconds behind
7. Zdenek Stybar (Czech Republic) 1:06
8. Mathieu van der Poel (Netherlands) 1:18
9. Florian Sénéchal (France) same time
10. Sonny Colbrelli (Italy) 
.... 11. Wout van Aert (Belgium)