Tom Boonen's coach becomes Tiny House
A woman from Ghent has just bought the old promotion coach used by Flemish cycling champ Tom Boonen. Eline Arnoys intends to turn the Van Hool coach into a tiny house.
The concept of the tiny house originated in America.  It's an architectural social movement that advocates the downsizing of living spaces, simplifying, and essentially living with less.  Tiny houses are defined as dwellings with up to 37 square metres' floor area excluding lofts.   
Eline says rents in Ghent are so high. The coach is an affordable alternative.  It currently stands parked in Antwerp, but Eline is now searching high and low in Ghent to find a suitable location where she can park the vehicle and set to work modifying it.
In Ghent many people can no longer afford to rent.  Eline and her boyfriend have been looking for a creative alternative for some time: a tiny house appeals to them.  They first thought of buying one, but then came up with the idea for this more mobile alternative.
"A bus is bigger than your average tiny house.  Our bus is 12 metres long" says Eline.  "You can fit an awful lot into it!"
The vehicle is 30 years old.  It's got a million kilometres on the clock that can't go any further. 
"I'd prefer not to know exactly how many kilometres it's done, but it's in good nick, still drives smoothly and is well maintained".
Eline and her partner's first goal is to transform the vehicle into a tiny house.  They don't intend to start touring immediately.
"We plan to keep it in Belgium for the minute, but once it's ready we could head for Portugal".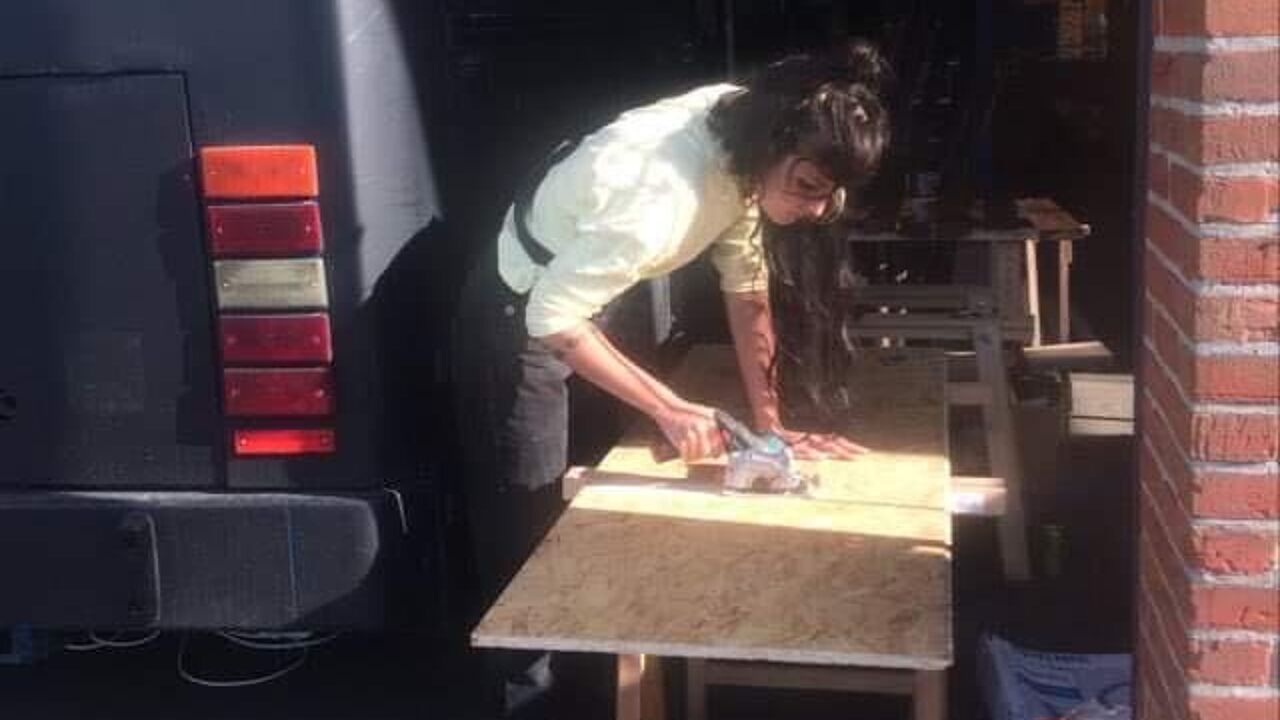 The coach has a loo and a shower as well as tons of history.
"It used to be a regular bus.  Then Tom Boonen used it as his promotions' coach.  It even had a beer tap installation, so I guess they used it to go on tour. Lots of things must have happened on this bus" says Eline with a smile.
The coach has even got an awning and a water tank.  There's electricity too in part of the bus.  "That's very handy to start off with but there's still a lot of work to do. I've demolished what needs to be taken out, sanded part of the vehicle and started on the works.  Now in my partner's garage I'm getting it ready for its inspection".
The vehicle is registered as a camper van.  This means it requires a kitchen. 
"We're taking out the present one.  I need to insulate the vehicle, put in some electrics and finish it off".
Eline is still looking for a location in Ghent where she can park the vehicle and do the work.  A covered parking spot would be ideal. 
"In Wallonia you can park a bus anywhere you like" she says, "but not in Flanders."