Localised downpours cause flooding at several locations across Flanders
Storms bringing torrential rain caused localised flooding in several towns and municipalities across Flanders on Friday morning. The Royal Meteorological Institute (KMI) has issued at Code Yellow weather warning for storms. The warning applies to the whole country. As well as heavy rain there is also a chance of hail and gusts of high wind. 
During Thursday evening and Thursday night a front bringing rain and stormy weather conditions reached Belgium from France. The front is making weather conditions today (Friday) unstable with regular showers and more intense downpours. In some places the rain is accompanied by hail and gusts of wind that can reach speeds of 60 km/h.  
As much as between 20 and 40 litres of rain per M² could fall at some locations and by Friday lunchtime this had already caused flooding at some locations in our region.  
In Kortrijk (West Flanders) the Felix de Bethunelaan has been flooded.
Loading video player ...
The cellar of the HoWest college of higher education that is holding an open day today has also been flooded.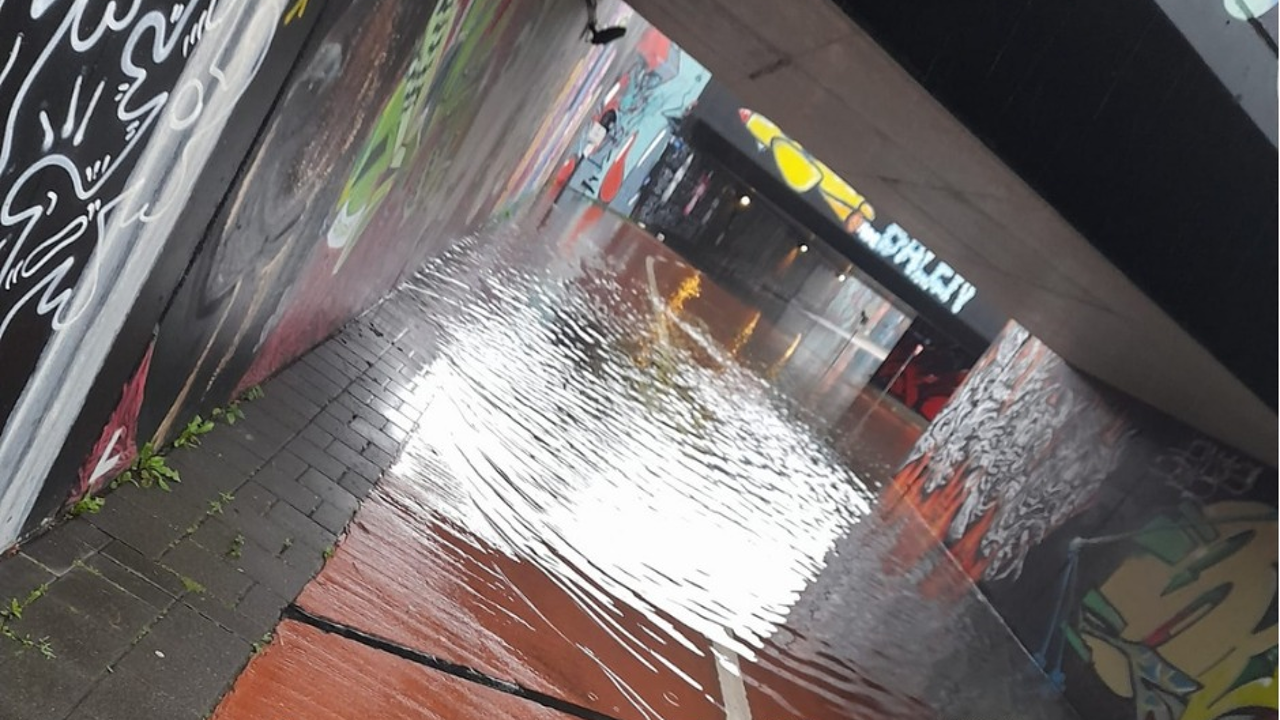 Flooding elsewhere
In Antwerp Province too there have been issues with flooding. In Mol the cycle tunnel under the Zuiderring as closed for a time due to flooding (photo above) Cyclists were advised to cross over the crossroads above ground and to follow the diversion signs. However, this is far from idea as the Molderdijk-Zuiderring crossroads has no cycle path and the municipal authorities in Mol say that it is dangerous for cyclists.
In Lier too several streets were flooded ( video below). The Fire Service received around 15 calls to deal with flood-related issues, including flooded cellars.  
Loading video player ...
Code Yellow weather warning for storms
A Code Yellow weather warning for storms is in force in the whole country. This means that the weather conditions could cause damage or distress at some localities. 
The Royal Meteorological Institute (KMI) advises vigilance. This afternoon the chance of storms and heavy rain remains. Later in the evening it will become dry. In the early hours of Saturday cloud will increase, but it should remain dry in most places.