Music shop in Geel gets noticed by Bruce Springsteen
The American rock star Bruce Springsteen has posted a photo of the music shop "Tony's Muziekhuis" on his social media. The shop window in Geel (Antwerp province) was dedicated completely to his new album, which did not go unnoticed. The shop in Geel is gaining fame thanks to the post, but shop owner Tony has not seen any extra international visitors so far. 

"For the release of #OnlyTheStrongSurvive, Tony's Muziekhuis in Belgium went all the way", Bruce Springsteen wrote on his Facebook page. 
Shop owner Tony Janssens told the VRT's Radio 2 that "people from Sony Music Belgium had chosen my business for some Bruce Springsteen window dressing, for the occasion of his new album. I was a bit surprised, but it was a pleasant surprise of course. I have no idea why they picked out me. They took a photo and sent it to his team." (text continues below the photo)
Bruce Springsteen's daughter is a keen equestrian and sometimes visits the Geel area in this respect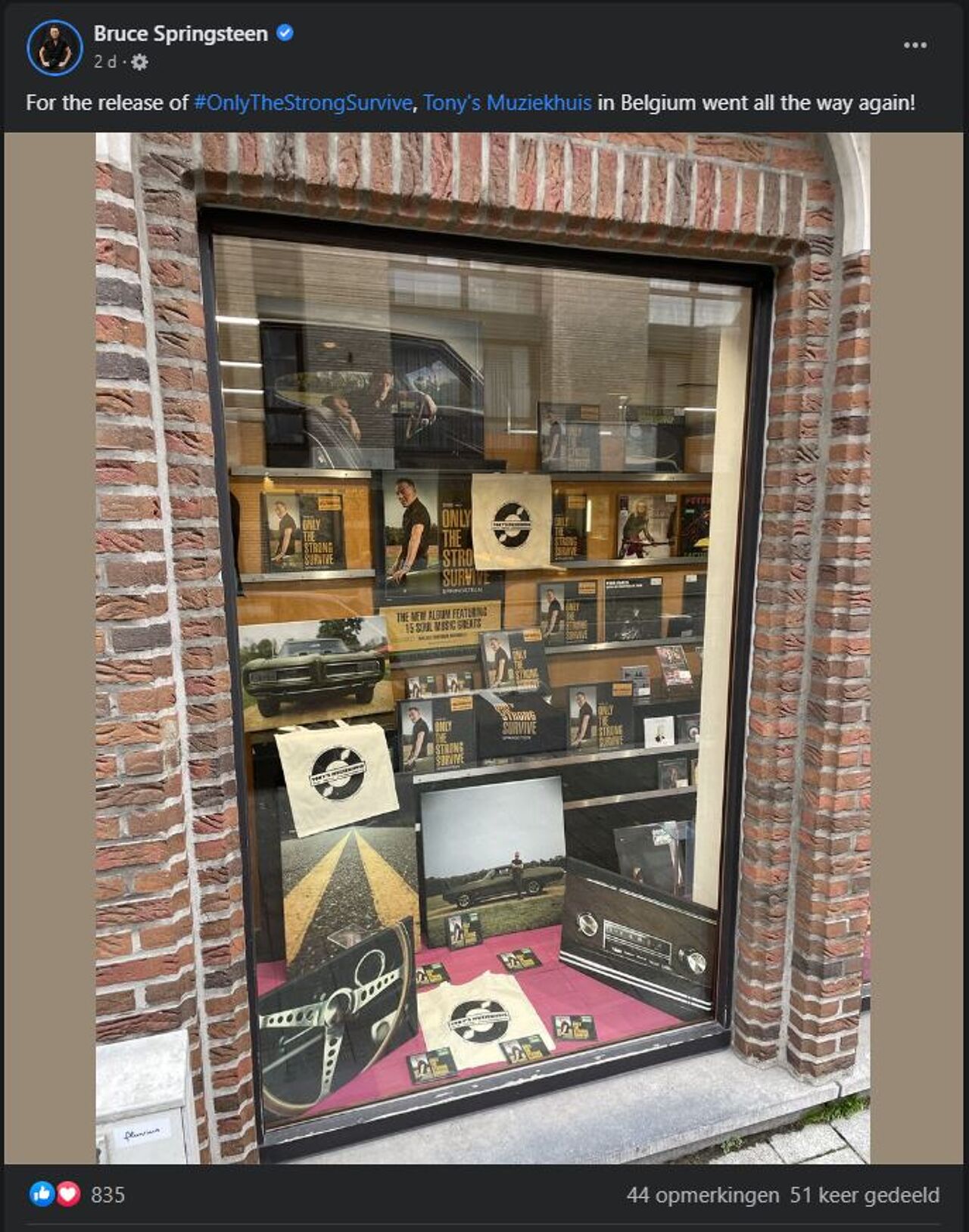 Bruce Springsteen's daughter is a dedicated horse rider and stays in Belgium now and then. Could this be an explanation? "I learned that she may have been in a manège close to Geel. She could have picked up the news there. Bruce has accompanied her in the past. I think he will come back one day." 
The Bruce Springsteen shop window did not last very long. The people from Sony Music took everything back with them after the visit. Two years ago, the music store was also chosen to highlight "The Boss". The window was painted for that occasion, and posted on Twitter by Bruce Springsteen. "I didn't get me any international customers, but who knows this may change in the future," says Tony Janssens.