"Passion is the heart of your work"
Vicepremier Didier Reynders heeft Steven Spielberg vanmiddag het ereteken van Commandeur in de Kroonorde overhandigd. Lees hier zijn integrale speech.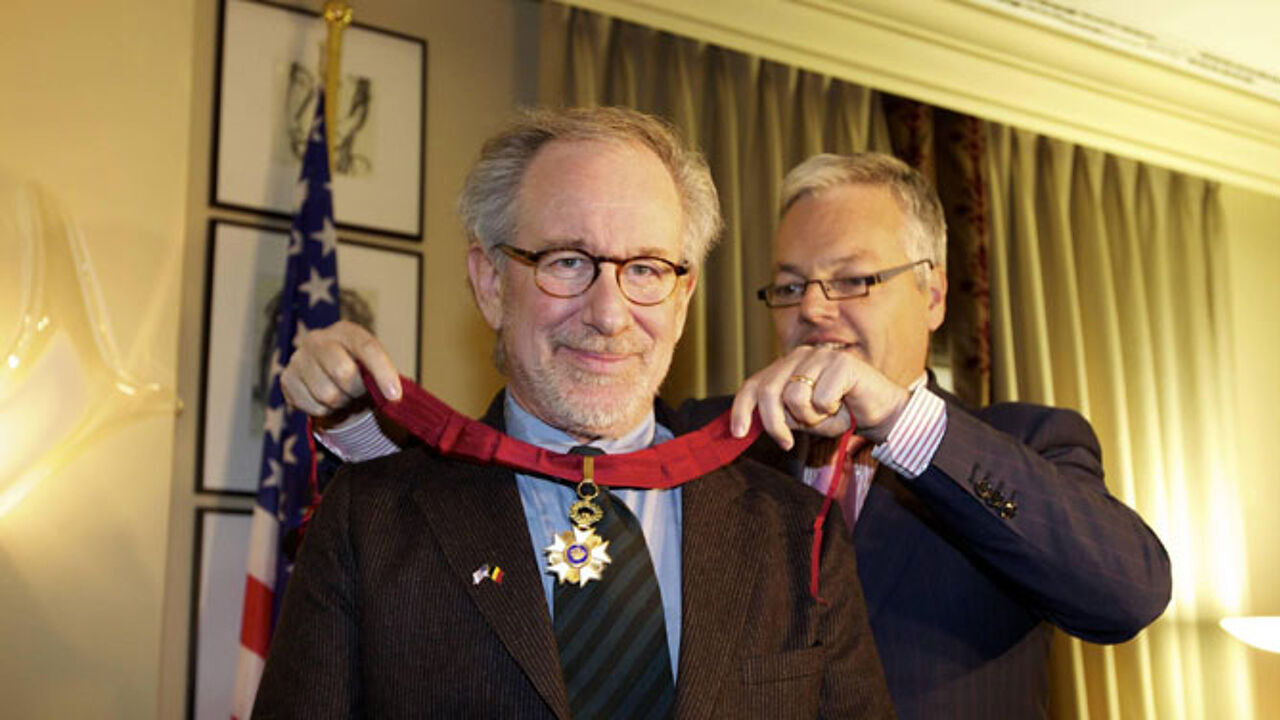 Excellency,
Ladies and gentlemen,
Mr Spielberg,
It is a great honour for Belgium to welcome you, you are one of the most iconic and influential key figures of the Seventh Art and you have put your legendary ability to serve Tintin, our national hero and symbol of the City of Brussels.

May I ask you to excuse my colleague Steven Vanackere, Minister for Foreign Affairs, who has not been able to join today because he is in China with an economic mission? From your passion for the camera, you have made a spectacular career thanks to your remarkable intuition, your wonderful qualities as a storyteller and your steadfast search for perfection in style, narration and technique. Passion is the heart of your work. A constantly renewed passion that allowed you to stamp in an innovative, brilliant and exceptional way the cinema history while adding your name to the pantheon of the greatest names and thus joining those who have been your personal source of inspiration : Alfred Hitchcock, François Truffaut, David Lean, Akira Kurosawa…

Worldwide celebrated, author of some of the biggest commercial successes in the history and author of film masterpieces, you are a source of admiration and inspiration for both the great public and the most passionate film lovers as well as for all those who dream of making a film with their dreams. Your enthusiasm, your energy, your constant search for new challenges have enabled you to build for over forty years a rich, dense and diversified work through your activities as film-maker, scriptwriter, producer, studio manager, both for cinema and television. "Jaws", "E.T.", "Jurassic Park", "Indiana Jones", Private Ryan or Marty McFly, Roger Rabbit, les Men in Black or Shrek, to name only a few films or characters of your impressive filmography of film-maker and producer, do not only belong to the world cinema heritage but in a still more evident way to our common cultural heritage as well.

Beyond your great box-office successes and your popular work, in the noblest sense of the word, you have been able throughout your numerous films to defend and promote the most essential humanist values. By developing through the eye of your camera your vision of some major issues which have marked or are still deeply marking the History of today's society such as terrorism, cloning, security drifts, slavery, racism or war, you have given to a lot of your films a high symbolic value as well as a universal and timeless significance. "The color purple", Amistad", "Empire of the sun" or "Schindler's list" for example belong to these works that beyond their artistic merit are also true conveyors ofknowledge and thought.

Furthermore through the foundation (Shoah Foundation Institute for Visual History and Education) you have significantly contributed to the duty to remember while collecting all the memories of the Holocaust survivors. I welcome the presence of Mrs. Viviane Teitelbaum, coordinator and representative of the Foundation in Belgium. Not less than 52,000 testimonies, filmed in 56 countries and in 32 languages, can be today distributed within the scope of educative programs for younger people in order to avoid future genocides.

It is a Man, passionate and fascinating, inspired and inspiring, a filmmaker, an artist and an extraordinary creator, a real world cultural institution that Belgium wants to honour today. Mr. Steven Spielberg, I have the privilege to grant you one of the highest distinctions in the national orders of the Kingdom of Belgium:
On the proposal of the Minister for Foreign Affairs,
it has pleased His Majesty King Albert II,
in recognition for services rendered,
to confer by Royal Decree of 17 October 2011,
the decoration of
Commander of the Order of the Crown upon Sir Steven Spielberg,
American national, "Film Director".